Observations After Two Division Wins, Six Games In
First of all: truly sorry, guys and gals.  This Autumn has had the Chaos Fairy make repeated stops at my home, bringing unforeseen whackiness most phases of my life.  It's been hard to formulate much beyond a sentence or two as complications at work combined with changes at home, and were compounded by more changes in my musical collaborations while dealing with evil viral gack going through my household.  I have little enough attention span to begin with, and this all made it worse…!
That said, I have gotten to pump my fists and shout the typical joyous profanities as we've won 2 of our 3 divisional games…and the kittens can kiss my fuzzy white butt.  I'm hoping we truly ruin their Thanksgiving.
That all said, let's see if I can encapsulate some of this…!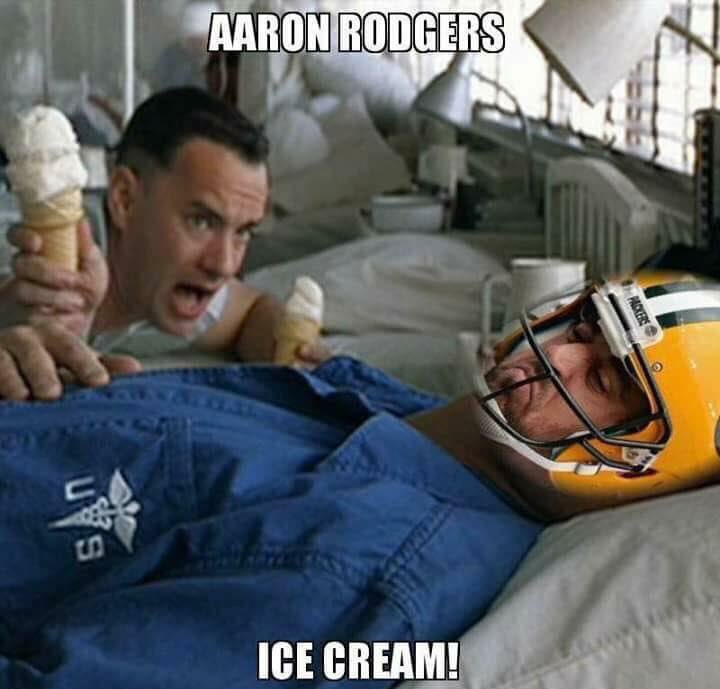 Heh…heh…heh…suck down that cone, Erin, you have plenty of time….
QB-  Case Keenum remains our signal-caller this week, going against a QB with a Super Bowl ring and who's part of a team that got that win in recent memory…yet Keenum has the better rating, accuracy, yards, and far better TD/INT ratio.  While Keenum hasn't been precisely inspiring some of the time, he has all the arm he needs and obviously is dialed in with his supporting cast.  His 5 TD to a single INT is serving the team well, but he throws into dangerous situations without the anticipation that defines the truly elite QBs.  All that said, practice makes perfect and he gets at least one more start with a Vikings team that's shown a ton of toughness on the way to the divisional lead.
RBs/FB-  It may not be "Thunder and Lightning" reborn, but the Murray/McKinnon duo are getting it done.  Murray is starting to show real production (and, likely, trust of his ankle) while McKinnon remains fairly deadly in open space. Ham throws in the blocks and occasional carries/catches to make himself useful as well, which is one more thing opposing defenses have to consider. Murray needs to be a bit more explosive and McKinnon needs reminders about ball security, but the loss of Cook has not meant the loss of our running game.
WRs/TEs-  This week is kinda rough, as it seems like every Vikings receiver not name Adam Thielen is nicked up to some extent.  Diggs remains as fragile as he is dangerous, but it's been great to see Treadwell getting some of the plays we've been hoping for since he was drafted.  Michael Floyd has produced a little, but is also playing a bit gimped…so we'll see if Jarius Wright can play himself out of whatever doghouse he seems to be in.  Rudolph hasn't made as many plays as we'd prefer, but he does decently when targeted and has to be a constant aggravation for defenses even in low-production games.
O-Line-  What a fuggin' difference an offseason makes.  While this group is short of a truly elite line, it is largely keeping our QBs clean and even the occasional injury hasn't meant disaster the way that it used to.  My happiness for this bunch equals the snarling frustration I had for the previous iterations of the last several years.
D-Line/LBs-  This bunch must be envied by many NFL teams.  Griffen is a complete monster and should have a Pro Bowl season, B-Rob is obviously the group's general both on the field and on the sidelines, and not since the Williams Wall have we been so brutal at DT.  Hunter has been strangely quiet, but Joseph has been incredible…and this bunch are the trench warriors of our awesome defense.  Behind them, Kendricks and Barr and flying to the ball (and the occasional pretentious prick of a QB) while new LB Gedeon seems to be growing into his role.  It's hard to fear any QB or RB all that much, right now.
CBs/Safeties-  Our starting CBs are kinda opposites, in terms of how I view them during games:  on one side, it's "Rhodes Closed" with XR becoming a consistent, true shut-down corner; the other side has Trae Waynes, who gives up some boneheaded plays/penalties while being an elite run tackler and occasionally making game-changing plays against the pass.  Newman has been the voice in both ears, and makes plays that show little of his age.  The safeties are also kind of different, as Hitman Harry continues to define his position with picks, sacks, and stellar play while Sandejo seems to constantly be 1/100th of a second away from brilliance.  Our secondary has basically stopped everyone except a pair of dominant QBs…and in those cases, it was still close.
Special Teams-  The Forbath and Quigley duo are good enough to avoid (most of) our anger, likely because our kick coverage remains solid and our returns are decent, if not (yet) dominating.
Coaches-  Zimmer is getting better at two things that have been issues: lethargic play and in-game decisions.  The Vikings looked a bit "off" in both of their losses, but were obviously fired up against Chicago and Green Bay, and winning streaks are good for keeping momentum.  I still growl about conservative play-calling on both sides, but I'm a typical fan that wants highlight-reel plays from my team all the time…so…maybe it's just me.
Officiating-  The Zebras haven't done much to garner my notice/wrath, lately…but not calling Barr for the Erin Rodgers highlight of last week did make me happy.
Conclusion-  After 6 games, we lost a pair to Rothlis-Bacon-Double-Cheese-Berger and Stafford, with a chance to pay the latter back next month.  Rodgers is out, the division is VERY much up for grabs, and we're playing against a Baltimore team that got annihilated by Jacksonville a few weeks back…so I feel REALLY damned good about today's game.
SKOL VIKINGS!!!!