Could This Be Spielman's Best Draft?
Bob Steele is known to our members as Viking Bob and often partakes in conversations in our Discussion Forums. Bob is also host of VIkeFans.com's own Thor's Hammer Podcast
Roughly a week before the season started in 2016, Rick Spielman was faced with the unenviable task of finding a new QB after the devastating knee injury to Teddy Bridgewater. After searching all possible available QBs, he shipped off a first and a fourth round pick to Philadelphia for Sam Bradford, the former Heisman Award winner and first over all draft pick in 2010.
The 2016 Minnesota Vikings started the season off 5-0 and including beating the arch rival Green Bay Packers in the Border Battle opening our brand new stadium, were also the last team in the NFL to go undefeated, and everything was looking great! then the injuries started to pile up and what was once a very promising season ended with the Vikings finishing at 8-8 and missing the playoffs and having a lot of work to do in the off season.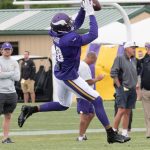 During the free agency, the G.M. added Offensive Tackles Riley Reiff and Mike Remmers as well as Running Back Latavius Murray to help protect the Quarterback better, Case Keenum, to compete a the backup QB position until Bridgewater gets healthy, and Michael Floyd to help the WR Corp. He also added DE Datone Jones and DT Will Sutton. But with other challenges like Chad Greenway retiring, Shariff Floyd injured and Adrian Peterson, Captain Munnerlyn and Cordarelle Patterson leaving in free agency, the holes on both sides of the ball started mounting and Spielman really needed to have an incredible draft, even without a first round pick.
When the weekend of the draft finally came Spielman and the Vikings were virtually helpless to do anything more than sit and wait for their pick in the second round at 48, but with both Dalvin Cook and Joe Mixon still on the board, Spielman started swinging for the fences and traded the the number 48 and 128 picks to Cincinnati for the 40th pick and selected Florida State RB Dalvin Cook who was projected to go in the first round. The 5'10 210 pounder with 4.49 speed, Cook is a great and versatile back that can both run and catch the ball and has break away speed. With early Training Camp injuries to Murray and McKinnon, Cook has been getting most of the reps with the starters.
In Round 3 Spielman again traded up, this time to draft Pat Elflein, a big, strong and smart player from Ohio State University who at 6'3 and 303 pounds could be the Center for the next decade. After which, Spielman started trading down, and down, and down, accumulating multiple picks in which he and the team went to work with 2 fourth round picks where he selected 6'3 313 pounder from Iowa DT Jaleel Johnson and 6'2 244 pounder from Michigan LB Ben Gedeon to hopefully replace Floyd and Greenway respectively.  Two more picks in Round 5 landed 6'1 190 pound speedster from South Florida University WR Rodney Adams who ran a 4.44 40 yard dash and 6'3 305 pounder from Miami G Danny Isodora, to hopefully replace Patterson and build the OL depth. Round 6 produced 6'6 250 pound pass catching Tight End Bucky Hodges from Virginia Tech who ran a 4.57 to give the team more offensive weapons. Round 7 had four picks which landed the team lots of much needed depth on both sides of the ball with 6'1 195 pounder from Miami WR Stacy Coley, who ran a 4.45. Followed by 6'3 265 pounder from Northwestern DL Ifeadi Odenigbo, 6'3 228 pounder from Kansas State LB Elijah Lee, and a big 6'0 202 pounder from North Carolina State CB/S Jack Tocho that ran a 4.54 40.
With eleven picks in the 2017 draft including four 7th rounders, the obvious question from every fan was "why?" why draft four guys in the 7th round, none of those guys ever make it in the league right? Well, going into the OTA's most of these late picks were not household names, but word came out that these young guys have been playing at a very high level and would have a chance at winning jobs in Mankato at Training Camp.
Add in undrafted free agents DE/LB Tashawn Bower, DE Dylan Bradley, OL Aviante Collins, OG Freddie Tagaloa, RB Terrell Newby, TE Josiah Price, CB Horace Richardson, DE Sam McCaskill, DT Dylan Bradley, DT Chunky Clements, LB Noor Davis WR R.J. Shelton, LB Eric Wilson, and P Tyler Symmank the team has added at least 20 new guys that have a great chance to make the team or the practice squad, meaning many jobs can be had.
After just the first pre-season game, Viking fans have to be excited at what they saw from the likes of Cook, Coley, Bower and Wilson and on top of hearing that players like Elflein, Isodora, Gedeon, and Cook all getting playing time with the starters in practice.
As a lifetime Viking fan, I for one am excitedly optimistic that Spielman and team did just have the best draft he has ever had with the Vikings and this team could be great for many years to come, especially with all the long term signings of Rhodes, Griffen and Joseph, it looks as though that the Defense should be set for the next few years, and the team can work on building the Offensive side of the ball and take a serious run at the so far very elusive Super Bowl, but with Spielman drafting like he just did, Cap Genius Rob Brzezinski, and Head Coach Mike Zimmer and his staff all working together as one to achieve the ultimate goal, I truly believe it will happen.
SKOL VIKINGS!!!!